I decided to make a new thread to answer Joey and Stanfields questions regarding supermoto's in my pit bike thread.
Building a supermoto: It really depends on what type of riding you intend to do. If you're track only any MX bike will do just fine. If you want to ride on the street and commute around they're not too practical and maintenance intensive. They don' t hold much oil and sustained highway speeds are hard on them. If you like CRF450's, and want to terrorize the streets, I'd recommend the CRF450X over the R. The Yamaha WR450's are pretty sweet and reliable in supermoto trim. If street riding is what you're looking to I'd recommend looking at something that's already converted, or street legal from the factory. Converting to SM trim can be very expensive. Here's my opinion on some SM's
Yamaha WR250X (reliable, FI, not a lot of power)
Suzuki DRZ400SM this is mine...I'm parting it out (bulletproof...but slow out of the box) Mine has a big bore 440, FCR pumper carb, Cams, exhaust, etc...I want more power.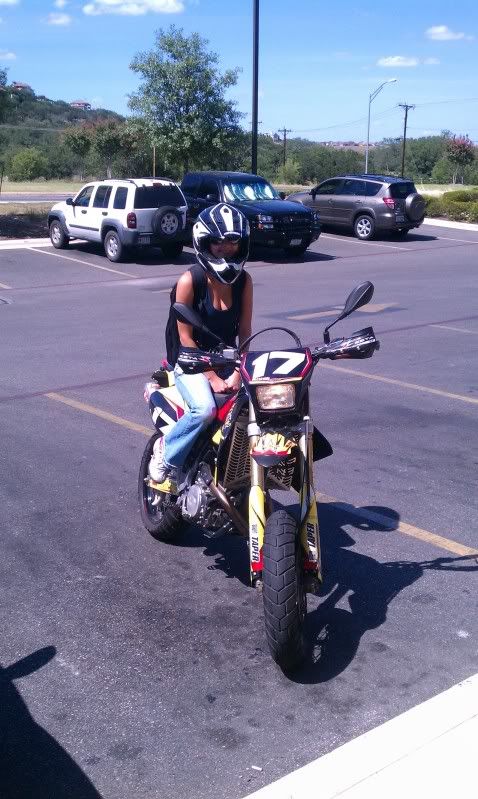 KTM 625 SMC (great power, reliable...just need to do a few preventative maintenance fixes)
KTM 690 SMC (the updated 625. Reliable, FI, a 6th gear...this bike is in my immediate future)
Husqvarna 610 (fairly reliable, I've ridden one and wasn't that impressed with the power, the 510SMR has more power, but less reliability)
Aprilia SXV 550. (bad ass bikes, until the engine blows up on you at 2k miles)
Husaberg 570 (replacement for the 650, don't know much about this bike, but I'm sure it's a bit maintenance intensive)
Husaberg 650 (the baddest street legal supermot ever made IMO. 65 wheel HP and only 240lbs...requires more attention to maintenance)