A few other things that I thought about.....
When the lake is rough you can't run as much ballast, moslty due to concerns with water coming over the side of the boat. the picture below will illustrate why, it was on a very calm day....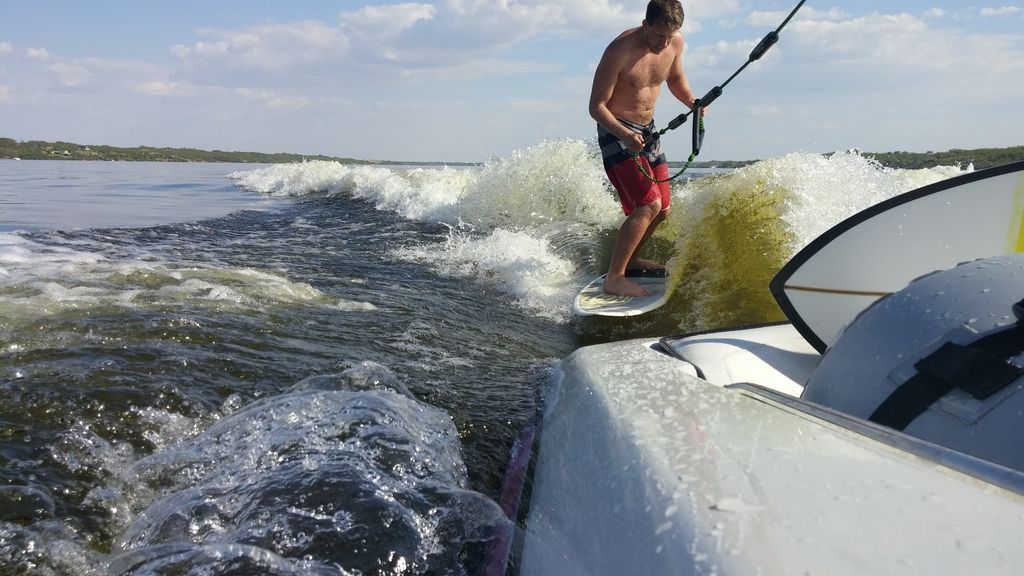 The goofy side is way better than the regular side. Don't get me wrong, I can surf both sides no problem (ropeless), and we have had one guy on each side of the wake a few times, ropeless as well. I am working on something to fix the regular side. The biggest issue with the regular side is that the top of the wake is washy/mushy. Weight to the front seems to help. See my last comment.....which should help.
When we switch sides, we only shift a 350 lbs bag to the surf side, so we are pretty evenly weighted.
With the weight that we run, and the way the boat is propped, we can easily run wakeboard speeds and cross the lake without having to unballast.
I built some boxes to hold the 350 lbs sacs and to give some solid footing to navigate the boat since it is in effect one large fat sac, it also provides a lot of storage when not sac'd out......
I am working on a surf system now and hoping to have it on before the end of the year and I will be updating my DXII surf setup thread.