The packing nuts probably look something like this.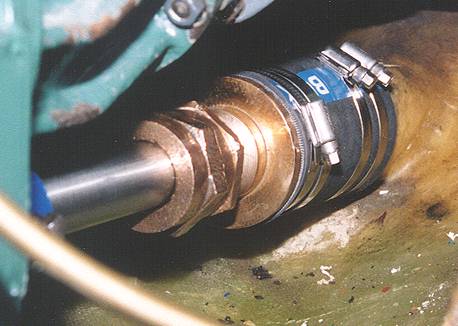 One of the nuts is a lock nut (on the right in the pic), the other is much bigger & the prop packing is inside it.
I tightened the packing a couple times before I got the drip rate right. Then it failed horribly so I replaced it with Skidim's "Virtually dripless" packing.
I'm going on 2 seasons with Skidim's "virtually dripless" packing.
http://www.skidim.com/prodinfo.asp?number=GFO3/16X24
I keep my boat moored on the lake for weeks at a time & it is truly "virtually dripless".
I used a couple of adjustable wrenches like this for the job. Got them at Home Depot for like $10 each.
Or you can buy actual packing wrenches at most descent dealers or
on Ebay
.
And I dug the old packing out using a
pick set that I bought at Harbor Freight for like $4
.
The job is a PITA but not really that difficult. The tightening or loosening of the packing so you get the drip rate right needs to be done in the water. Loosen the packing so the packing gets good & wet. Run the engine, put the boat in gear. Let it get wet. Then tight it a little. Try it in gear & see how much it leaks. Tighten a bit more, test it in gear. Supposed to leak like 5 - 10 drips per minute. Getting that drip rate can be time consuming. So bring a six pack. And plan on trial & erroring your way thru it.