The thermostat is in the thermostat housing, held down by two bolts into the intake located at the front of the engine. It will have several hoses going into it, one coming from raw water, one to each exhaust manifold, and one to the engine circulating pump.
In this picture it's the metal piece on the intake up front with all the hoses going into it. Yours may look a little different depending on what engine you have but it'll be easily recognizable.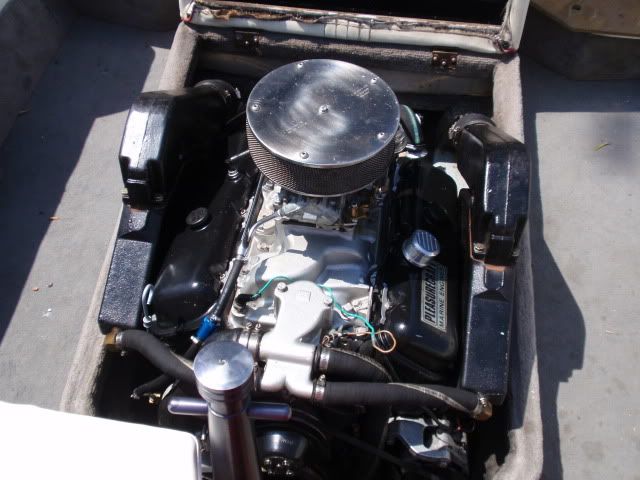 I pull mine for cheap insurance. Draining the block, maifolds, etc. is also cheap insurance. Get as much water out as you can with all the drains (some folks don't even use antifreeze), then run antifreeze through the engine so you know it's not heavily dilluted, then drain that.
In the end you only have small amount of antifreeze/water in the engine which should have very low water content so should not freeze, but if it does it's unlikely it'll do any damage. It's not necessary, and a lot of folks just run it to temp, then run a few gallons of antifreeze through it. I feel better to spend a little more time and be certain. A thermostat is only a few bucks, + gasket(s). Typically yoyu can get a marine thermostat+gasket hit for $20 or less. Do whatever method you're comfortable with.
Also I don't recommend using the -50 pink RV antifreeze. It will freeze at relatively warm temps and turn to slush, but not freeze solid. It does not take much water to make it freeze solid though. I use the -100 antifreeze as it won't slush so quickly and is more tolerant to mixing with water before it'll freeze solid.
Also I don't worry about corrosion. A bit of mild surface rust isn't a big deal and would take longer than the life of the engine to cause a problem. It'll rust no matter what if you have water in it or air. If corrosion is a big concern, switching to a closed cooling system solves that (except manifolds, which I consider a wear item) and simplifies winterization. But by the time your engine gets too much rust or scale on the inside it's time for a rebuild anyhow and it gets hot tanked and cleaned or replaced with a new engine, or you've already upgraded. Even with a lot of scale inside the engine you still have an unlimited supply of cool water to pump through it so no worries.