Most of the credit goes to this guys blog
http://www2.swaylocks.com/forums/dyeingcoloring-fins-0
Be Careful with RIT Dye, It doesnt come out of ANYTHING. Make sure you where gloves, unless you want colored hands for the next few weeks
Supplies
-Fins to Dye (sometime of natural composite/white fin)
-Bottle of RIT Dye (I used Royal Blue, but there are tons of colors) I found it at Michaels, that arts and craft store.
-240 grit sand paper
-5 gal bucket (or something you can fill with hot water, and allows the fins to lay flat without overlapping)
-medium size tupperware or another bucket
-A few pairs of rubber gloves
Get Started
1) Sand off the finish of the fins with a 240 or similar grit sandpaper, look at the fin at an angle and make sure it looks uniform. Keep sanding untill all the spots are gone. Make sure to sand parallel to the base of the fin. Dont forget to sand the leading and tailing edges.
2) Rinse the fins with warm water to remove the oil from your hands
3) Fill the clean 5 gal bucket with 2-3" of hot water. (I let me tap run for a few minutes and thats hot enough) Get outside and pour about half of the bottle of dye into the water and mix it around with a plastic spoon. You can add more or less dye, depending on the shade you want, but I found that the shade is easier controlled by the time left in the solution.
4) Put the bucket in the sun so the solution stays warm and then lay the fins on the bottom without over lapping the edges. If you are using convex fins, lay the concave side down.
5) After an hour, check each fin and reposition/flip if necessary. You will need to flip the convex fins.
6) After another hour, pull the fins out and put them into an ice bath to rinse and help the dye to set. I let mine sit in the ice water for 20-30 minutes.
7) Pull them out of the water, and dry them with a paper towel. if some color rubs onto the towel, rinse a few more times and then re-dry with paper towel and then allow for the fins to completely dry outside.
8) Put them back on the board and enjoy your custom color fins
For lighter or darker coloring, Scale the times down or up. + or - 30 minutes should be a good starting point.
Before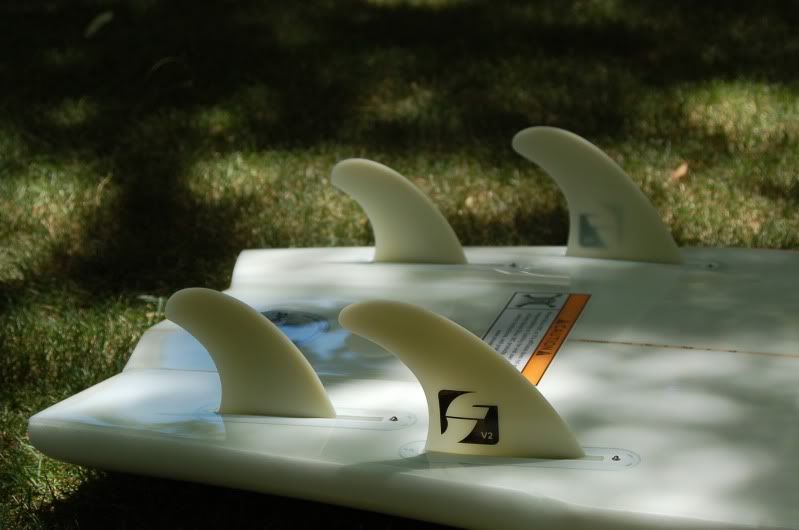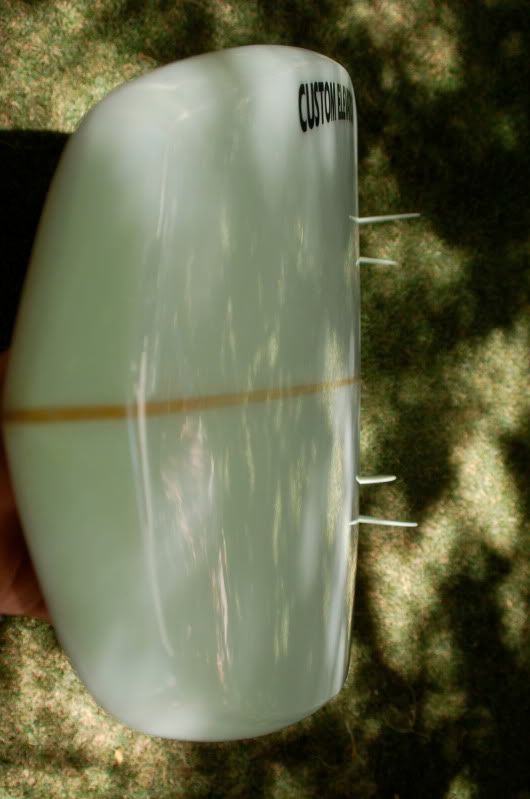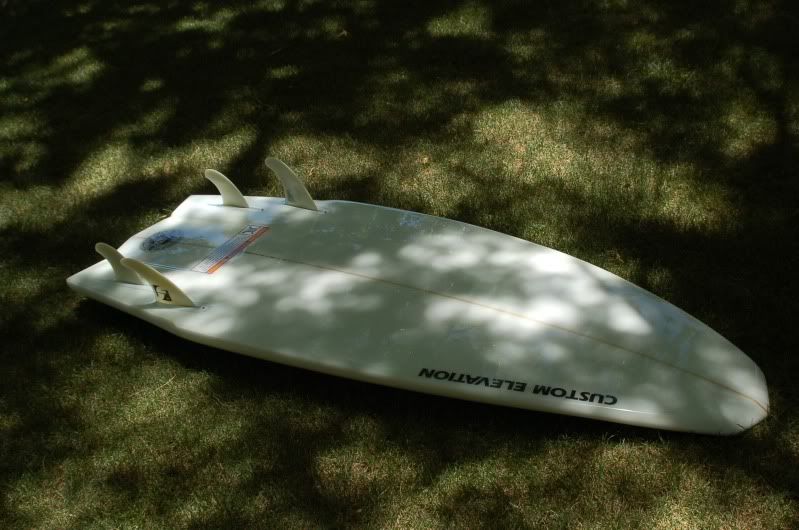 After